WELCOME TO TANIA WURSIG ART
I am an Australian visual artist specialising in portraiture, currently based in the vibrant city of Sydney and the enchanting islands of Tahiti.
On this platform, you'll have the opportunity to explore and acquire my fine art prints and original works, which are currently available in my studio. Additionally, I welcome private commissions upon request, tailoring unique pieces to your preferences.
Since 2011, I've embraced a travelling lifestyle, splitting my time between Sydney and the captivating islands of Tahiti. As an artist in residence, I spend three-month periods immersed in the breathtaking surroundings and vibrant Tahitian culture. This extended exposure has fostered a profound connection within me to Polynesia, leaving an indelible mark on both my artistic expression and personal life.
Whilst in Tahiti I paint, exhibit, gather inspiration and conduct my renowned 'Painting in Paradise' art retreats, where participants can join me in an immersive creative experience surrounded by the beauty of the islands.
To stay updated on my latest exhibitions, annual Open Studio shows, workshops, and exclusive 'Painting in Paradise' art retreats, I invite you to join my mailing list . By doing so, you'll receive special invitations and be part of a vibrant community of art enthusiasts.
Thank you for visiting my website, and I look forward to connecting with you soon!
FINE ART PRINTS
Tania's fine art prints are rich in colour, superb in detail and professionally produced to order using state of the art scan and print technology. Learn more
Printed with archival pigment based inks and museum grade surfaces Tania's artwork may be ordered on either premium grade cotton rag paper 310gsm OR premium canvas - Chromata LYVE - 415gsm finished with a high-performance liquid laminate U.V protective coating.
Tania works closely with her printmakers in Sydney, Australia, and personally oversees the colour matching and details to ensure each fine art print is of the highest quality available.
Once your order is created it is quality checked and securely packed for shipping. 
Paper prints are hand embossed with Tania's seal and canvas printed with her signature logo.
SHOP FINE ART PRINTS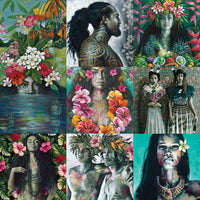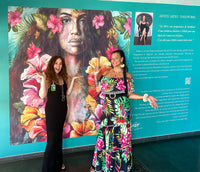 FEATURE ARTIST AÉROPORT DE TAHITI
I'm thrilled to finally share the incredible news that my artwork is now proudly on display at the International Departure Lounge of Aéroport de Tahiti Fa'aa. It is with immense pride and honor that I have been selected as the featured artist for the next year, with a collection of 25 large-scale works gracing the lounge.
This opportunity is a dream come true for me, and I can't express how excited I am. Being chosen as the feature artist at such a prestigious location is truly humbling.
Shop Fine Art Prints
2022 PORTIA GEACH FINALIST & WINNER OF THE POEPLES CHOICE AWARD
I am so proud an honoured that my portrait titled 'Unnamed'of Midori Goto has been selected as a finalist in this years Portia Geach Memorial Award, and was the recipient of the People's Choice Award.
This painting is now available for purchase.
VIEW PAINTING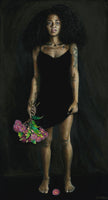 JOIN THE TANIA WURSIG ART MAILING LIST
 To receive information on upcoming exhibitions, events, 'Painting in Paradise' art retreats, and special offers 
OR FOLLOW ME