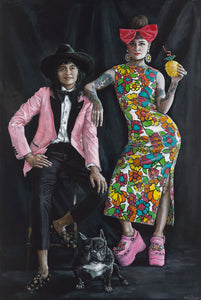 CHAKITA - Limited edition
Regular price $370.00 AUD Sale
Limited edition of 120
 ARCHIBALD ENTRY 2021, selected to exhibit in the Salon des Refuses at the SH Ervin Gallery and winner of the Holding Redlich's Peoples Choice Award. Being a female artist practicing on the 'fringe' of the establishment, I am interested in celebrating other 
female creatives in this sector of society. 

My painting 'Chakita' is of Lesbian power couple, 

Nikita Majajas and Charlie Villas, internationally recognised Pop artist/designer and DJ, and leaders within the LGBTQI + community. 

Passionate fashionistas, Nikita is the founder of cult Pop accessories brand "Doodad + Fandango 

and Charlie has made her mark in the queer party scene playing gigs such as Sydney Mardi gras. What I most admire about this couple is their ardent support of each other's creative endeavours.
This portrait is a celebration of love, creativity and the duality of femininity.
Printed with archival pigment ink on acid free premium grade cotton rag paper 310GSM, or premium canvas - Chromata LYVE - 415gsm finished with a high-performance liquid laminate U.V protective coating. 
The colour saturation and detail is superb.
Each print is embossed with my signature logo and hand signed.
All my prints are custom made to order, please allow 10-14 days for delivery of your print order.
*Please note all prices are for unframed prints and the welcome discount does not apply to this edition.